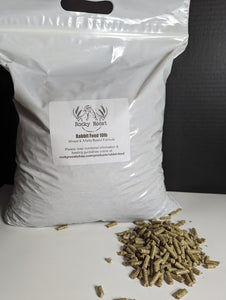 Regular price
Sale price
$7.50
These resealable bags weigh 10lb full of quality alfalfa based rabbit feed. This feed is an all-round diet for your rabbit meant to be supplemented with hay.

Adult rabbits should be fed about 25g per kg of body weight. For example lops, New Zealands and large rabbits should be fed about 1/3 cup per day. Smaller rabbits should be fed about 1/4 cup. Giving constant access to hay additionally is the best practice as rabbits will not over eat on hay but they will over eat on pellets. Feed approved vegetables as regular treats.

This feed contains added selenium at 0.1mg/kg. Do not mix with other feeds.
GURANTEED ANALYSIS

| | |
| --- | --- |
| Crude protein (min) | 17% |
| Crude fat (min) | 2.0% |
| Crude fibre (min) | 13.0% |
| Crude fibre (max) | 18.0% |
| Calcium (act) | 1.0% |
| Phosphorus (act) | 0.60% |
| Sodium (act) | 0.25% |
| Vitamin A (min) | 11,000 IU/KG |
| Vitamin D (min) | 1,100 IU/KG |
| Vitamin E (min) | 50 IU/KG |
Similar products
Customers who viewed this item also viewed